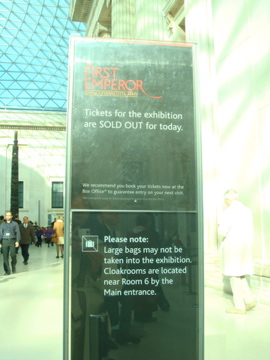 Ah! Just as I'd predicted. "SOLD OUT," it says at the empty queue for tickets at the British Museum's Terracotta Warrior's exhibit, taken last week while in town. Why? Well, to start only 500 tickets are given to the first entrants of the museum – of course a line wraps around the museum grounds, then stretches onto Great Russell Street long before opening – so why would I subject myself to such disappointment?
Well. It's true. As a museum donor, you can get first dibs on ticket sales, but not are always available on the same day. Was it worth negotiating, giving them my sob story of traveling from New York via London and Milano just to gain entry? Yes. Indeed. It's typically our first stop to see what's on view when the hubby's in town, finishing meetings on The Strand or farther afield in Canary Wharf, but mostly it's the best one-stop-museum-hopping virtually on the planet.
No matter, I didn't grovel, but alas, it was too humiliating to stand there and offer my reasons for allowing me an extra ticket when others had traveled even farther that day. So, I missed out on this exhibit, but intend to return again next Spring for hopefully a better reception and with guaranteed tickets, preferably purchased online as a member instead. In the words of one of the BM's attendant's, "We are sold out until March 2008!" I can't help but wonder, uh. Do you intend to extend the show any further due to overwhelming demand?